Tips to Become a Professional Travel Photographer
As with all types of photography, business savvy is key. According to a post on stoodnt, there are many careers to make a living with travel photography. And many of them go beyond camera equipment and focus on social media promotion, content creation, discussions, and income. But the first step is to get out in the world and make a choice. In this post, we have gathered all the essential ways to become a professional travel photographer.
Get Your Travel Photography License
Whether you license photos through an agency or work with local businesses, destination photos sell. If you're just starting, consider posting your best work on sites like 500px, where you can easily offer your images for licensing. If you already have a good portfolio of work, consider signing up for Stocksy, the most trusted stock photo service on the market. You can sign up for a Demotix account to get started with travel photojournalism.
Offer Your Services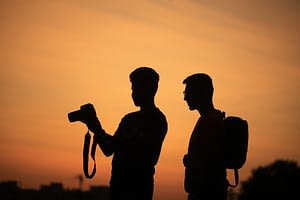 You can offer photography services to a travel/tourism company in your favorite destination. Opportunities abound, whether you advertise your services or offer an exchange. Contact local accommodations to exchange images and receive a free stay. Talk to the local tourism office about getting photos and an honorarium.
Remember that a good portfolio has considerable reach, and the more you grow, the better your chances are.
Sell Your Prints
If you enjoy photographing a particular subject, it will show in your work. If you've created a cohesive series of images related to a particular person or place, consider hanging them in a coffee shop or selling prints or coffee table books online. Talk about your work to art galleries and significant venues until you find someone who takes the bait.
If you're just getting started, you can share your work online for exposure, and upload it to print-on-demand websites for effortless print sales.
Provide Workshops and Tours
Whether at home or abroad, if you know the ins and outs of a particular place, you're likely to be able to offer photography tours and location-specific assignments that appeal to tourists and serious photographers alike. Part of this photographer's service was designed to reveal essential areas, helping others take great long exposures around interesting locations. Consider what you can offer in a place you know well.
Create Contents in the Travel and Photography Industry
Content creation fits your photography and can allow you to develop and earn your photos. If you're a gear enthusiast, you can write in-depth reviews, or publish post-processing tutorials, or even write a book. If you like to write about travel, you can create a bookmarking site that showcases travel guides and reviews of popular lodges and adventure trips, complete with photos.